Sergio Romero wife blasts Argentina for husband injury omission: 'Lies!'
Oleksandr Sereda
Peter Coates @ Twitter
• Argentina No 1 has been replaced in Argentina squad after a knee injury
• His wife insists Romero would be fit even for Argentina's first game at the tournament
Sergio Romero was said to have picked up yet another injury this year with this one ruling him out of the World Cup in Russia next month. The official statement was made by the Argentina Football Association via their Twitter. No comments ensued from the player himself. Even the Man United official Twitter reacted accordingly:
Commiserations to #MUFC and Argentina goalkeeper Sergio Romero who will miss the @FIFAWorldCup due to a knee injury.

— Manchester United (@ManUtd) May 23, 2018
Sergio Romero's wife, however, sees the situation otherwise as he said: "There's nothing broken. It's a piece of loose cartilage. The doctors told him he was OK for the World Cup. The recovery is 2-3 weeks maximum but with how my husband is & the effort he puts in he could be ready for the first game [vs Iceland].
She goes on to even suggest there may be something more than a simple squad decision as Romero has reportedly been replaced by Tigres UANL's Nahuel Guzman: "There are many people that want him out. They said it was broken to justify it. I'm tired of the lies. I don't know if those that speak are inept, uninformed, cowardly or have personal interest, which in all cases would be the worst reasons."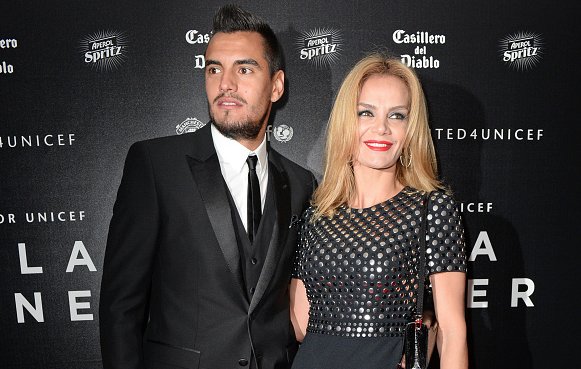 Romero's teammate Javier Mascherano commented on the loss in a resigned manner though: "Romero's injury represents a big low, not as a footballer, but as a man. He has been the leader of the team for 10 years. It is football, things happen. We must wish the best to Guzman and move forward.
Sergio Romero was meant to be the No 1 choice. He's already made 94 appearances since his 2009 debut for Argentina which is the 7th best result for the team. Argentina have been drawn in Group D at this summer's World Cup along with Iceland, Croatia and Nigeria. Their opening game is against Iceland in Moscow on June 16.