Does Laca+Auba partnership have future?
,
Sky Sports' Nick Wright analyses boys' pre-season and decides if they are destined to play side by side
"The early evidence suggests Aubameyang and Lacazette have already struck up a good understanding on the pitch and it is a similar story off it. The pair are regularly seen laughing and joking during training sessions and on social media. Last season, Aubameyang even gave Lacazette a late penalty against Stoke when he was on a hat-trick. Team spirit is important to both players and they are eager to make their partnership work."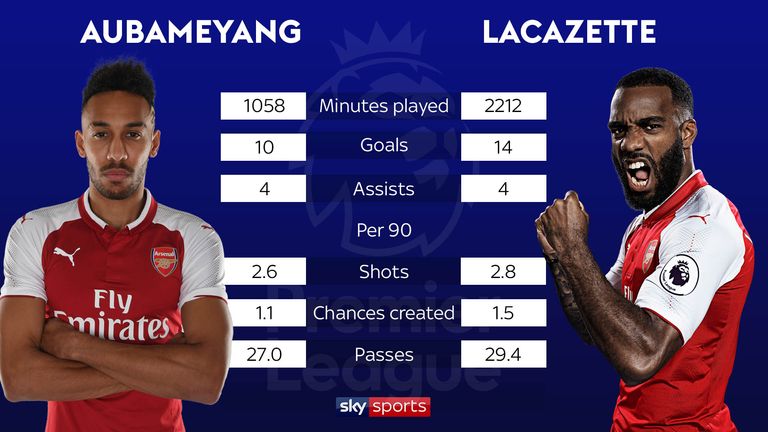 "Many supporters questioned Wenger's decision to use Aubameyang on the left rather than as a centre-forward at times last season, but it has been the same story under Emery in some of Arsenal's pre-season games. The Gabon international started on the left against both Atletico Madrid and Boreham Wood, allowing Lacazette to start up front. Emery gave Aubameyang opportunities to lead the line in Arsenal's meetings with Paris Saint-Germain, when he provided the assist for Mesut Ozil's opener, and Chelsea, but on those occasions there has been no room in the team for Lacazette.
"Despite playing fewer minutes than Aubameyang, however, Lacazette has been the more prolific of the pair in Arsenal's warm-up games. Aubameyang scored a hat-trick against Boreham Wood, but he has not found the net since, with Lacazette scoring twice from the bench against PSG and once more against Chelsea - in addition to his goal against Boreham Wood.
"Emery may decide to pick up where Wenger left off and use Aubameyang on the left with Lacazette through the middle, but it is unlikely that he will use them as an old-fashioned centre-forward pairing. The Spaniard generally prefers to use one central striker in either a 4-2-3-1 or 4-1-4-1 formation. Lacazette is not comfortable on the left, so unless Emery persists with Aubameyang there, he might find it tricky to fit both players into his starting line-up. It's up to him to find the right configuration, but it's an exciting prospect for Arsenal regardless."