Valverde explains who is responsible for Bilbao slip-up
,
Barca boss lightly criticises his team who didn't have enough rhythm and speed.
Valverde suggests that everyone is responsible for the unsatisfactory result at San Mames.
He reckons Barca had a tough week but doesn't want to use fatigue as an excuse for the draw.
"It was a bit of a slow game on our part, especially in the first half. We expected the game to have a bit more rhythm. In the second half we attacked them but we couldn't score, we couldn't get the win."
"Dropped points? That's football, that's the nature of the game. There are games that we stumble and people want to blame one player but it is the responsibility of the whole team."
"If you win, fatigue is not there and if you do not win, it seems to be a handicap. We come from an intense week, but we do not want to put that as an excuse," the coach concluded.
Barcelona drew Athletic Bilbao 0-0 at San Mames in the 23rd round of La Liga. The Catalans failed to create any danger in front of Iago Herrerin's goal except for Lionel Messi's shot that was denied by the bar in the first half. On the other end, Marc-Andre ter Stegen had to save his team twice after Basque players' shots to give his side a chance to win the match. The team looked tired and sluggish with Messi not being 100% ready, Dembele returning from an injury and Suarez, Vidal and Coutinho simply not having their best day.
Thus, Barcelona go six points clear at the top of the table with Real Madrid in the second place. Los Blancos have beaten their neighbours Atletico on the 23rd Matchday 3-1 getting ahead of Diego Simeone's side. Barcelona's next match takes place on February 16 as the Catalans face Real Valladolid at Camp Nou in the 24th round of the league. At the same time, Real Madrid will take on Girona at home.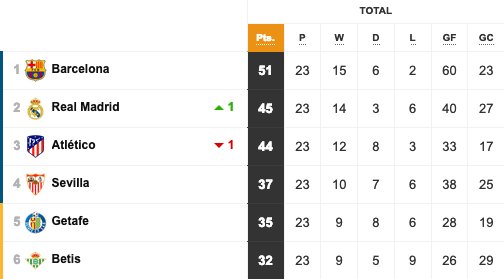 What do you think was the main reason behind Bilbao draw?