Barcelona Live users annoyed with another unnecessary draw: 'This one is on Valverde', 'Suarez's situation not funny anymore'
,
Our users are highly critical of the team's performance at the San Mames.
They believe that both the line-up and the subs were wrong.
Some players are criticised, especially Suarez, Coutinho and Vidal.
Finally, our users are worried because Real Madrid won their respective game.
Barcelona drew Athletic Bilbao 0-0 at San Mames in the 23rd round of La Liga. The Catalans failed to create any danger in front of Iago Herrerin's goal except for Lionel Messi's shot that was denied by the bar in the first half. On the other end, Marc-Andre ter Stegen had to save his team twice after Basque players' shots to give his side a chance to win the match. The team looked tired and sluggish with Messi not being 100% ready, Dembele returning from an injury and Suarez, Vidal and Coutinho simply not having their best day.
Thus, Barcelona go six points clear at the top of the table with Real Madrid in the second place. Los Blancos have beaten their neighbours Atletico on the 23rd Matchday 3-1 getting ahead of Diego Simeone's side.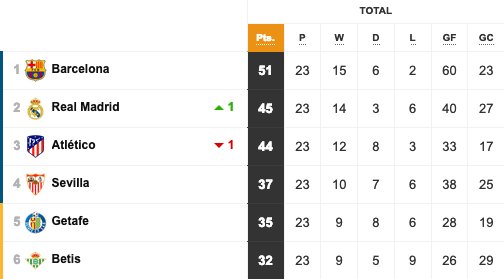 Did Barcelona Live users like the team performance in what was the third draw in a row for them? What are their takes from the match? Are they satisfied with Ernesto Valverde and the players? Let's find out!
After such an underwhelming result and performance, our users are looking for the reasons behind this slip-up.
Many believe that the main one is wrong tactical decisions from Ernesto Valverde - both in the starting line-up and with his subs:
In fact, our user Luah Kiala is so enraged with Valverde's decisions that he refuses to support the team until the Basque specialist is in charge: 
Some individual performances have been underwhelming as well - with Luis Suarez, Philippe Coutinho and Arturo Vidal being criticized the most:
With Real Madrid winning against Atletico a day earlier, the situation looks even more concerning for Barca, point out Dani Cts and Messi Ruas Barreto: 
Finally, the Barca board's strange transfer policy once again comes in the spotlight: