Figo compares Real Madrid and Barcelona in this one aspect - not in Madrid's favour
,
Figo believes that Barcelona fans are better at supporting their team's players: they create 'a perfect environment' for them to thrive.
Madrid fans are more demanding, according to the Portuguese.
Former Real Madrid's player Luis Figo, who also had a spell at Barcelona, has come up with a controversial take about the difference of playing for Barca and their arch-rivals.
"I experienced them [the both clubs' fans] at different times," explained Figo. "In Barcelona they idolise players and it is wonderful to play in such an environment. They do not screw you so much if things do not go well.
"Madrid has a great love of being the best and they set the bar very high."
There is at least something truthful about this statement. Gareth Bale, for example, can tell a lot about the demanding character and even outright hostility of Real Madrid's fans. Just two weeks ago his car was attacked by angry Madridistas when he refused to stop to sign some autographs. That's not to mention the constant whistles and verbal abuse he witnesses from the Bernabeu stands. 
On the other hand, to hear such an opinion from Figo of all people is somewhat ironic if we remember the infamous story about his return to the Camp Nou as a Blancos player that involved a pig head being thrown at him, no less.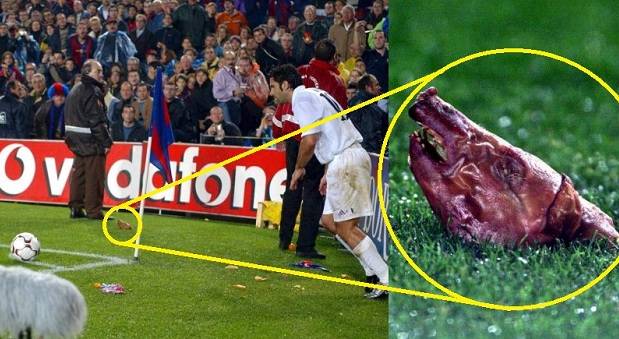 Figo spent five seasons at Barcelona in 1995-2000 before making a sensational scandalous move to Real Madrid in summer 2000. Los Blancos orchestrated the transfer by meeting the player's release clause (€62m) making this transfer a world record at the time.
Figo then spent five seasons at Real Madrid scoring 57 goals in 239 matches for Lis Blancos. The Portuguese managed to help Real Madrid win seven titles including to La Liga trophies (2000/01 and 2002/03) and the Champions League in 2002.