The Johan Cruyff stadium will be inaugurated in August
,
FC Barcelona have almost finished the construction of the Mini Estadi's replacement which will bear the name of the club's legend.
The women's team and youth sides are expected to play here.
Barcelona are re-developing their sporting facilities as they are preparing to open a new stadium which would bear the name of the club's legend, Johan Cruyff. The new arena is set to host the women's team and the youth sides games. In fact, it is going to be a replacement for the famous Mini Estadi which is expected to be demolished after 37 years of service.
The brand new Johan Cruyff stadium will open its doors in August, not in June as it was reported earlier. Nevertheless, it's partly done already. The big red letters of the Johan Cruyff adorn the upper side of the arena.  The stadium will have a 5,000 capacity. The seats are already put in as well.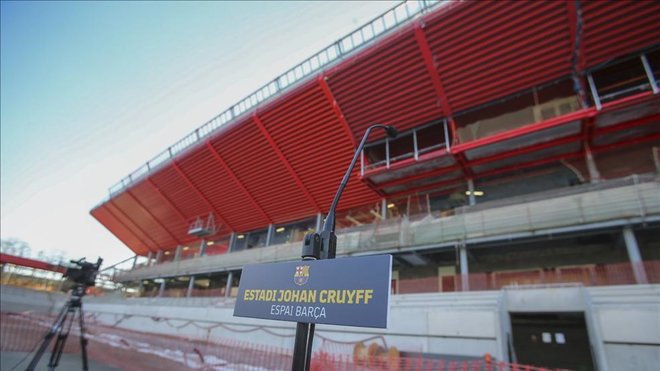 Johan Cruyff played a huge part in Blaugrana history. He spent five years at Barcelona as a player - between 1973 and 1978. During this time, he made 139 league appearances for the Catalans and scored 47 goals. 
Cruyff's return as a coach has shaped the Catalans as one of the biggest European football clubs. He led them to their debut European Cup win in 1992. He discovered Pep Guardiola, Carles Puyol, Xavi Hernandez and Andres Iniesta. His sporting philosophy is still thriving at both Barcelona and Ajax.
Cruyff sadly passed three years ago, on 24 March 2016.