Opinion: Letting Caldara leave is a difficult but right decision
Arsen Dzantiev
blackwhitereadallover.com
Blackwhitereadallover.com's Hunter Sharpless insists Bonucci is objectively better fit in terms of tactics
But AC Milan will also benefit from Caldara's arrival
"I don't want to pretend like it doesn't suck to lose Caldara. I know it's not the most riveting take or whatever, but I just don't think this move is either the end of the world or the smartest thing in the world. Bonucci is, in my mind, an objectively better fit in terms of tactics. But it also extremely sucks to part with a young center back who could have the guts and skill to be the best Italian center back of his generation.
"There's no getting around this. There's no getting around the fact that handing Caldara to a team with Alessio Romagnoli really, really stings. The kid scored seven goals just two seasons ago, for goodness sake. He's talented as hell, poised, tough, and already experienced. I do think it's worth pondering, though, whether fans would feel differently about Caldara leaving simply if he wasn't Italian, because there does seem to be a fair amount of fetishization of Italianness and being Juventino, and I'm just not quite sure it matters all that much.
"One would hope that Marotta is now going to flat-out refuse all offers for Daniele Rugani, to at least retain one center back talisman (not to mention a younger player for the depth chart), but you never know these days. I can imagine the bottom really falling out for many fans, though.
Bonucci vs Caldara stats in 2017/18, as per Goal.com: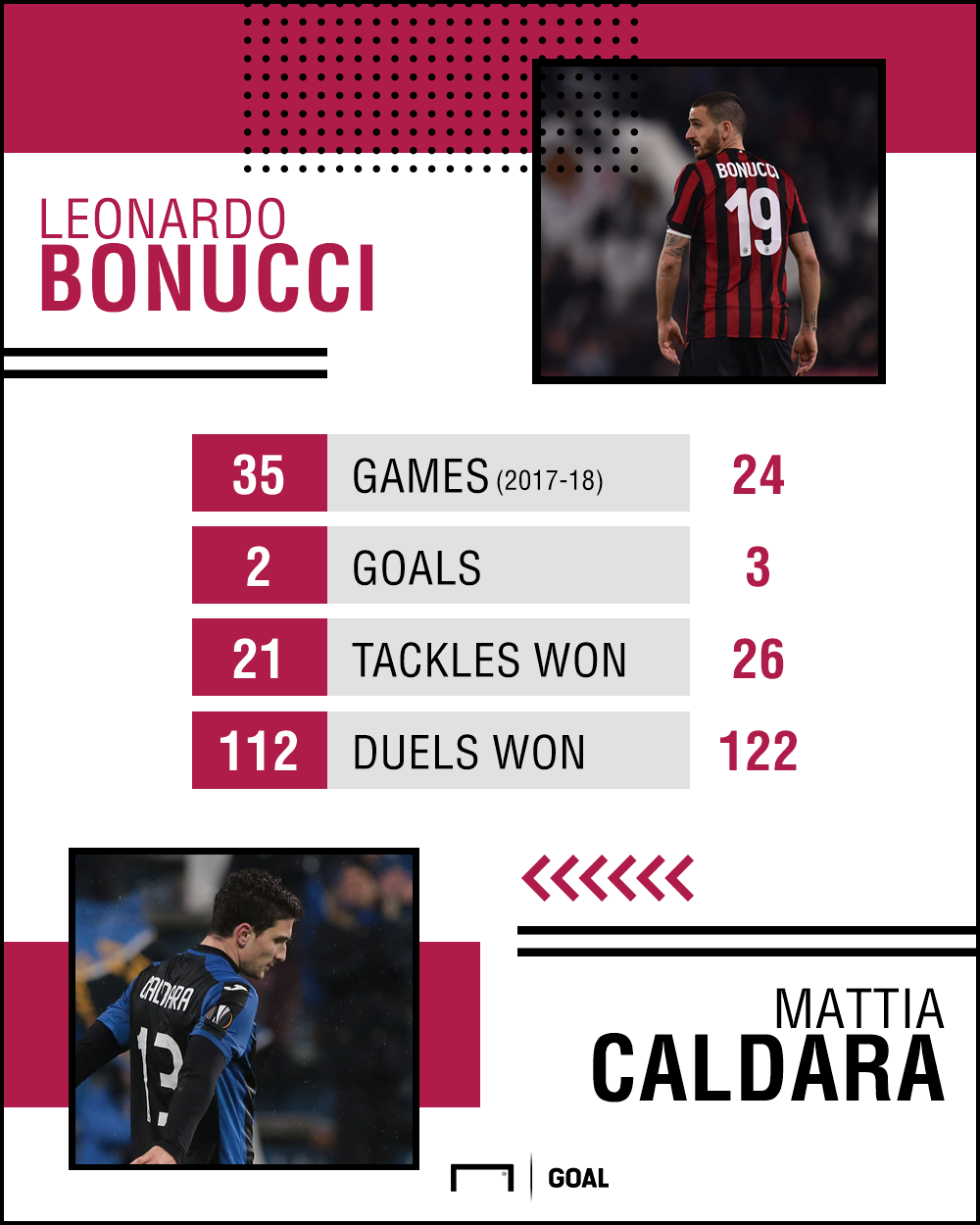 "Finally, the idea that younger players will not want to come to Juventus — because Juventus hurt Caldara's feelings or something, or because Max Allegri doesn't feature them very often — is something I can't really buy. If Juventus are winning, young players will come. If Juventus are acquiring players like Ronaldo, playing players like Paulo Dybala, and raising trophies, players will come. In the last few weeks alone the club has secured signatures from star youth players Pablo Moreno, a Barcelona youth product, and Christian Makoun, who, if sources are to be trusted, was drawing serious interest from Real Madrid (and Arsenal, if that means anything).
"I can't shake the feeling that this is just a difficult move, whether or not it succeeds for one or both clubs. It's complicated. It's fraught. The probability that it ends up being a very good swap for both teams seems relatively high to me: Bonucci is clearly the better fit for this current Juventus side, Milan acquires a center back pairing for the foreseeable future, and Juventus may find just enough financial freedom to secure a promising center back elsewhere in the next couple seasons, especially when Andrea Barzagli retires in 2021."
Watch also: Where will Cristiano Ronaldo live in Turin?