Gary Neville sticks to his word & wears Shaqiri-signed shirt
As a result of a bet, Neville donned a Liverpool shirt, Carragher did a United one
Former Man United defender Gary Neville was meant to wear a red shirt on Monday Night Football show as a repercussion of a bet he had offered and lost to his colleague, former Liverpool player Jamie Carragher. Since the bet was made public, a promise is a promise and Neville didn't renege on it: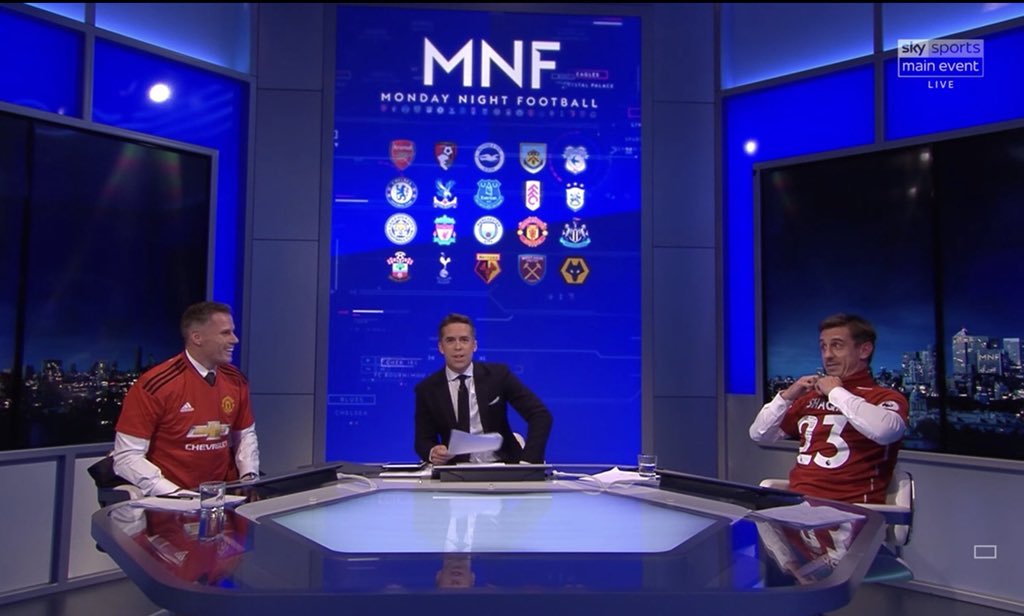 What made it even funnier is that Neville wore a No 23 shirt, the one that belongs to Xherdan Shaqiri and that the Swiss international had even cheekily signed for Neville before the show. "To my number 1 fan, Gary. Please don't track back. Sorry, please don't backtrack on this bet, Xherdan Shaqiri," reads the message.
Until the last moment, Gary refused to wear the arch rival's shirt as long as Jamie Carragher was being just as stubborn. The incentive for Carragher to sit through the show in a Man United shirt was also a result of a bet that the two had supposedly had. At least, Gary insists that his colleague was to oblige:
Finally, the arrangement was made and the fact that a charity was at play possibly facilitated the occasion:
The backstory is that ex-United defender and current pundit has slammed Xherdan for his last season at Stoke implying that he doesn't do enough to help out his teammates when defending: "They were unprofessional last season, Stoke. There's no doubt and he epitomised it. He could score the goal of the tournament and he could have the most amazing game. But he could also be there for three matches, do nothing and just amble and wobble around. To be honest with you, with him, players like that I can't have. I struggle with it."
   GMT    Звуковая функция ограничена 200 символами