How did Real Madrid look last time they started a season without Cristiano Ronaldo?
Real Live | Bleacher Report
The season 2008/2009 was the last one without Cristiano Ronaldo who arrived from Manchester United during the summer transfer window of 2009. 
Real Madrid were only waiting for a new era of overwhelming success and while Cristiano was finishing his business in the Premier League there were other forwards responsible for delivering the ball into the opposition's net. 
Bleacher Report remember Bernd Schuster's starting XI for the first game of La Liga against Deportivo: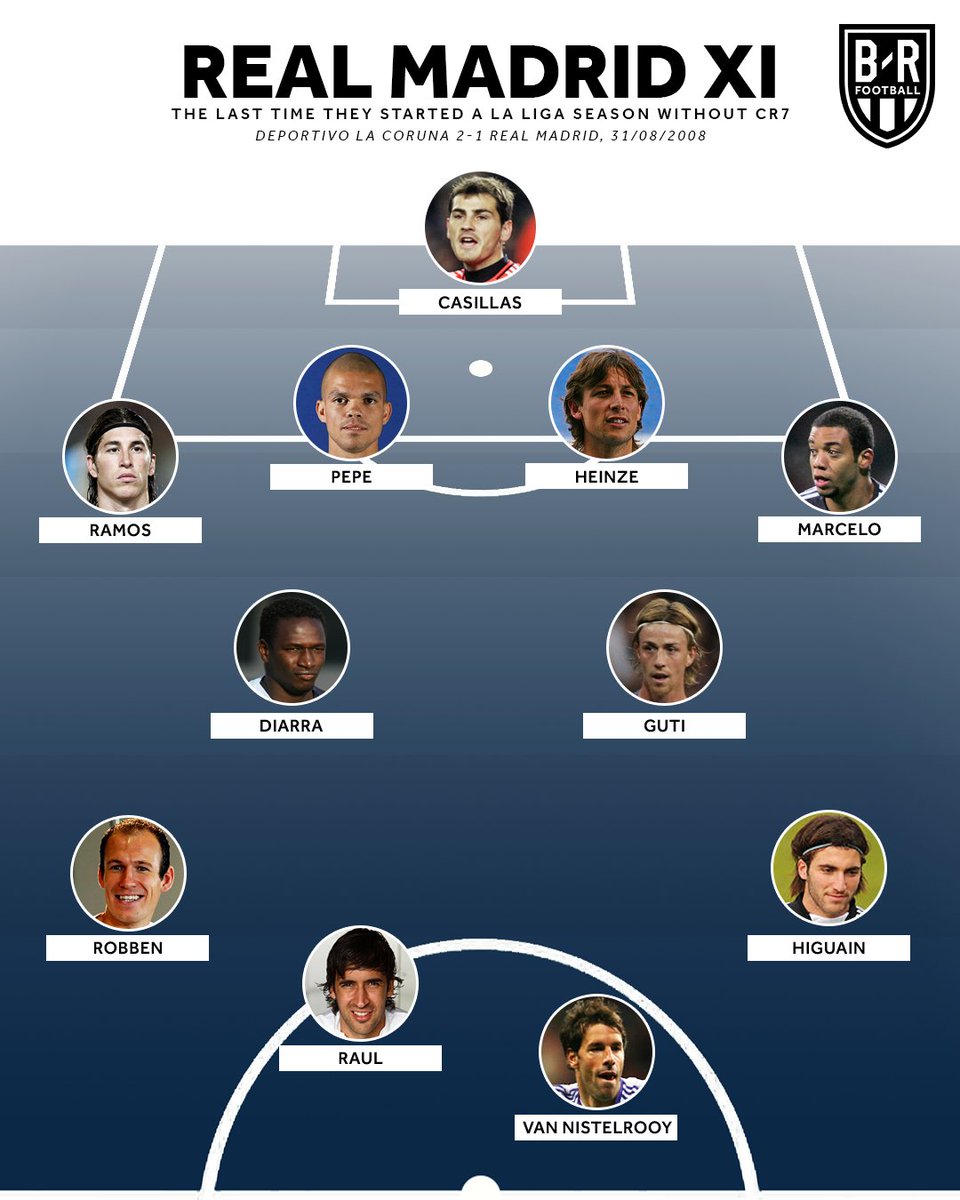 Los Blancos had an impressive line-up saturated with the class of such legends as Iker Casillas, Raul and Guti. The young defenders Sergio Ramos, Pepe and Marcelo were only at the beginning of their joint path to glory while Ruud Van Nistelrooy, Mahamadou Diarra and Gabriel Heinze were the providers of the much-needed experience. Arjen Robben and Gonzalo Higuain probably were not even thinking about the Bundesliga and the Serie A, focusing on successful performance at the Royal club.
The match against Deportivo was an unlucky start to a rather disappointing season. Los Blancos lost 1-2 as Van Nistelrooy's goal wasn't enough to snatch the victory against the side from A Coruna. 
Real Madrid finished second in La Liga, nine points behind Josep Guardiola's Barcelona. They didn't manage to get past Liverpool in the first knockout round of the Champions League after a crushing 0-4 away defeat. Additionally, The Whites surprised everyone by losing 2-3 to a very modest and unpretentious Real Union in the fourth round of Copa del Rey. 
How do you think this season will unfold as Cristiano is no longer with us again?