Valverde insists Barcelona 'not weakened' in title race despite two consecutive draws
,
Real Madrid are now just six points behind Barcelona in LaLiga table after Barcelona were held to a goalless draw by Athletic on Sunday.
Barcelona boss Valverde insists that the Catalans are in the same position as before the weekend: six points ahead of their closest rival in the table.
Valverde doesn't want to blame Barca's poor form on a tough schedule, with other teams having the same problems.
Barcelona;s clash against Athletic Bilbao ended in a goalless draw and gave Madridistas even more confidence in the possibility of overthrowing our main rival in Spain. The Catalans failed to create any danger in front of Iago Herrerin's goal except for Lionel Messi's shot that was denied by the bar in the first half. On the other end, Marc-Andre ter Stegen had to save his team twice after Basque players' shots to give his side a chance to win the match.
With Barcelona clearly out of form, Real Madrid's chances to remove the gap between the two sides are growing, especially since Los Blancos themselves have been doing extremely well in the past two weeks. Barcelona are currently six points clear at the top of the table with Real Madrid in the second place.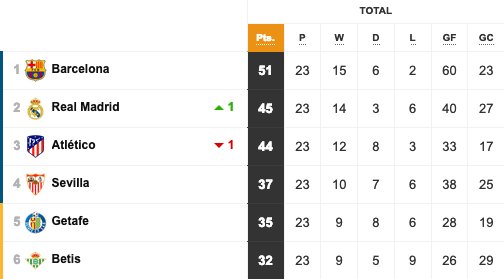 Nevertheless, the Catalans' coach Ernesto Valverde continues to insist that Barcelona haven't lost any ground on their rivals in La Liga title race.
"We began the matchday six points clear and we end it in the same position," Valverde told the media after the game at the San Mames, as cited by Marca.
"That means, if my maths is accurate, we are still in a very strong position but of course we know we must keep winning games from now until the end of the season.
"I do not want to put this [setback] down to our fixture schedule, all teams have this if you want to be challenging for every trophy, so I do not believe it is an issue."
Barcelona's next match takes place on February 16 as the Catalans face Real Valladolid at Camp Nou in the 24th round of the league. At the same time, Real Madrid will take on Girona at home. Let's see if Los Blancos can reduce the gap even further...